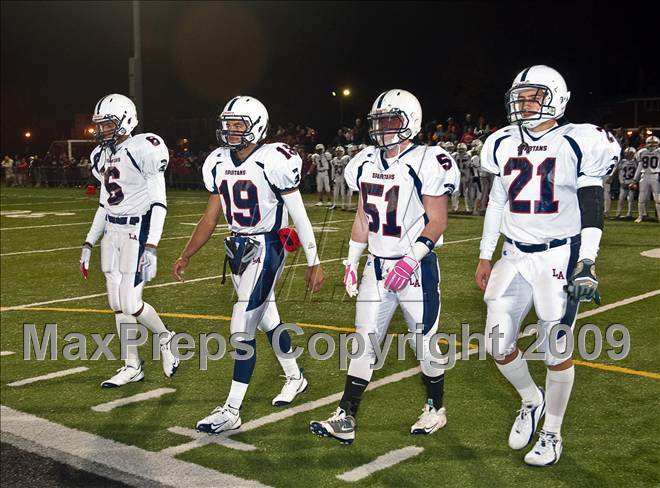 Intimidation Leads Prep School Football Team to a Victory
The Lawrence Academy football team prepared to rack up their second victory against St. Georges in as many years. But to Lawrence Academy's surprise, they wouldn't even have to play the game to get the division win.
St. George's school has withdrawn from Friday's game against the defending Independent School League Champions, Lawrence Academy due to health concerns. Lawrence Academy has been on top of the ISL for the second year in a row winning games easily and by large margins. The Spartans defeated St. George's 48-15 last year and went undefeated blowing out every team that they faced. For the 2010 season, the Spartans have been ordered by school officials to keep the scoring down.
"I met with out headmaster and the decision was made not to play them," said Athletic director and Head football coach at St. George's. "As for the reasons why, you can draw your own conclusions."
The vague statement by coach Mackay definitely turned heads around the ISL. Lawrence Academy is being looked at under a microscope by not only the entire league, but also within the program. The powerhouse football team is being criticized for allegedly running up scores and being too physical while doing so. Lawrence Academy's Athletic Director Kathy Noble commented on allegations and criticism saying, "Our goal is to promote sportsmanship and that's something everyone here wants."
Another major factor that contributes to Lawrence Academy's success and other teams complaining is the size of the players. The Spartans have three starting linemen who weight 300 pounds or more. Numerous coaches throughout the league have questioned the size and talent of the Lawrence Academy players.
"This is strictly a safety issue, said St. George's headmaster Eric Peterson. "We are trying to keep our kids reasonably safe in a game that can be terribly exciting but has risks."
Lawrence Academy will be credited with the victory but it's unsure as to how the St. George's record will be affected. Spartans coach Mike Taylor commented on the issue saying, "We're disappointed because kids want to play. This is a St. George's decision, not our decision." The Spartans have come off back-to-back victories beating Thayer Academy 43-8 and Nobles & Greenough 38-7. Lawrence Academy will host Belmont Hill at home on November 5th. It will be interesting to see if teams will take on the powerful Spartans or if they will back down because of safety issues.